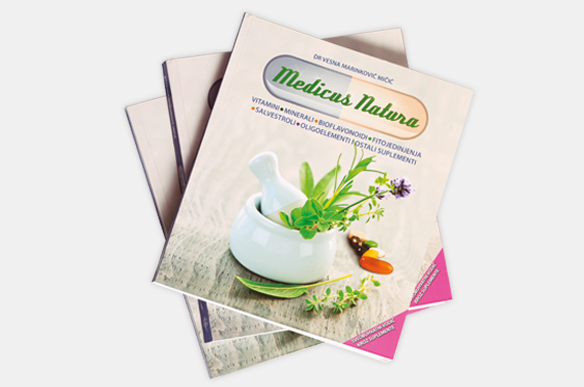 We are pleased to introduce you with the new groundbreaking medical book "Medicus Natura".
Indeed, we are all aware of the importance of good health. Good health is necessary for happy and productive life. Never have we lived in times when we are more and more exposed to high stress levels and environmental toxins. By making nutritionally poor choices and eating high - calorie, nutrient - poor food we are constantly stressing our body, not giving it the crucial support fundamental for maintaining good health.
Considering all the challenges that we are confronted with, the puzzling question remains to be answered: Given the circumstances, how exactly is possible to obtain and maintain good health? By revealing the most recent scientific discoveries in medicine and pharmacy, the author of this book
M.D. Vesna Marinkovic Micic, using professional knowledge gives us the answers that we need to achieve health and well being in comprehensible and popular manner of writing. Extensive and thorough, the book "Medicus Natura" gives us the insight about new areas of medicine and pharmacy. Until recently, we only knew about vitamins, minerals and oligo - elements. However, up until today, scientist have revealed myriad of different chemical compunds, as precious for our health as vitamins are. Among these compounds are: Bioflavonoids, Salvestrols, Oligomeric Proanthocyanidins, Silymarin etc. Discovery of aforementioned chemical compounds and their role in preserving good health reveals new innovative approach to disease management and prevention – supplementation. This book gives us a deep insight about revolutionary discoveries made in the fields of medicine and pharmacy in the last 25 years concerning the use of phytochemicals and other supplements for maintaining overall health. Discovered chemical compounds, are so powerful in preserving health and preventing the occurrence of disease that they are, without doubt, essential for disease prevention and management as well as longevity. In this book you will find clear and elaborate information about all the nutrients and phytochemicals important for proper functioning of the body as well as their natural sources and newly updated recommended daily allowances. Book contains a chapter which gives emphasis to herbal medicine and the use of medicinal herbs for treating various health conditions. On the whole, this book represents a comprehensible informative guide to dietary supplements and medicinal herbs.

"Medicus Natura" not only does provide us with safe instructions for prevention and treatement of most common and prevalent diseases of our century but advises us how to maintain good health and vitality in order to be in best psycho - physical condition and live longer. "Medicus Natura" will give you a whole new perspective on the way you look at modern medicine.