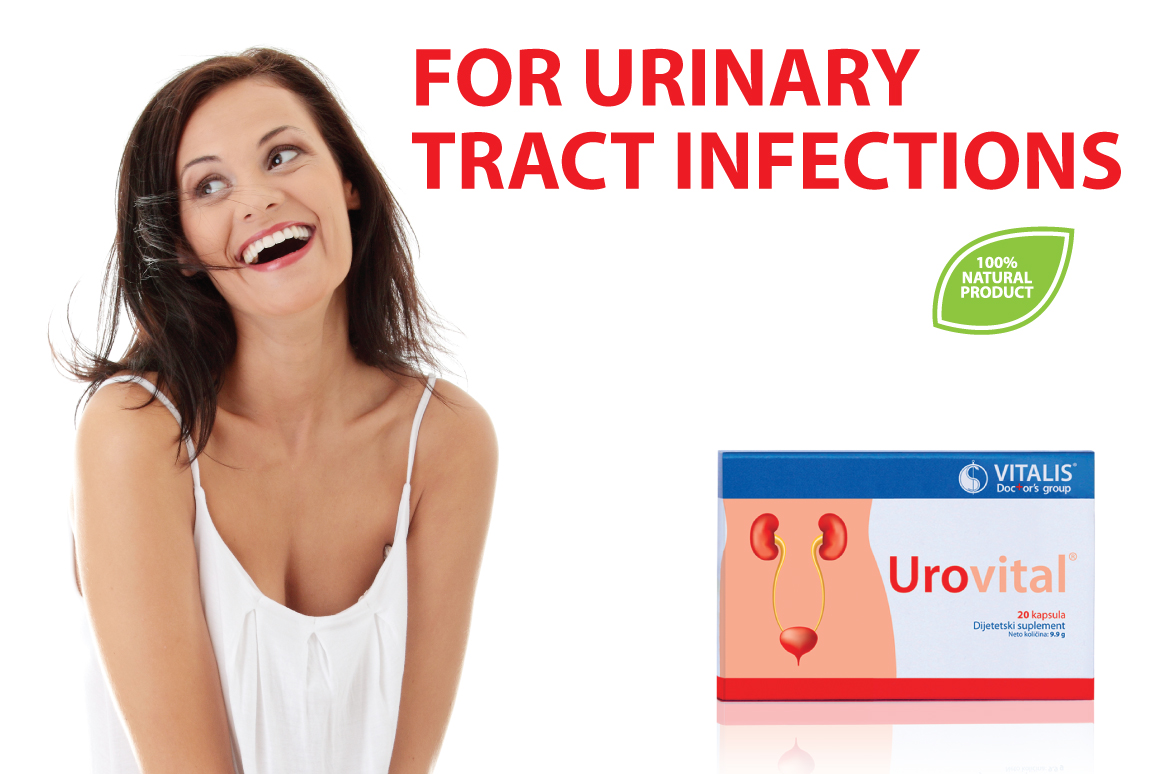 Urovital  is a new all-natural product for strengthening the resistance of the urinary system. Thanks to the synergistic effect of standardized ekstracts of cranberries, Buchu and saw palmetto it achieves extremely beneficial effect on the genitourinary system in women, and especially in men by preventing prostate enlargement and inflammation.
Urovital is recommended for frequent and painful urination, for burning with urination, nocturnal enuresis, for difficulty in urination, acute and chronic inflammation of the urinary bladder and kidneys, as well as for the treatment of infertility and reduced potency.
Patient experiences confirm that this combination of completely natural ingredients easily and quickly improves urinary symptoms, improves and facilitate urination. Following the latest medical researches that prove that this combination of medicinal ingredients reduces the painful spasms of smooth muscles, which explains the disappearance of pain in the genito-urinary system in men and women (ureter, urethra, oviduct, urinary bladder).
Biochemicall evidence are that it inhibits the activity of enzyme 5-alpha reductase which translates testosterone to dihydrotestosterone which is necessary to maintain proper prostate function in younger and older men by preventing further unhealthy prostate enlargement.


I FEEL MUCH BETTER NOW!!!
JOZEF Francija, Boka:
"On my daughter's recommendation I started using Urovital which, after a week, gave visible results:
- Urination was not frequent and difficult,
- I didn't feel a burning sensation,

- effects were 100%.

I feel much better now, even my laboratory findings of urine and urine culture are good. The quality is clear! I will continue with use of Urovital to enhance healing."
I FELT IMPROVEMENT RIGHT AFTER THE FIRST BOX!!! THE PAIN WAS REDUCED, AND A BURNING SENSATION HAS BECOME THE PAST!!!
VRBICA Zivic, Nis:
"For a long period of time I had problems with my urethra. Soreness and burning sensation were unbearable. I tried a variety of products and drank various kinds of teas. At the urging of my daughters I decided to try Urovital (the fact that my husband uses Vitalis's products made me feel as if I had nothing to lose). I felt improvement right after the first box! The pain was reduced and the burning sensation has become the past! Now I feel differently, but I admit that for prevention purposes, in my home pharmacy, I always have at least one box of Urovital. I will continue using Urovital when the symptoms completely subside since I trust Urovital. We have used your products for a short period of time but results are already visible. Thank you and thanks to our daughter for advising us to start using your product. P.S. Sometimes you should listen to the young ones."